Communique - "Gardens bring summer produce...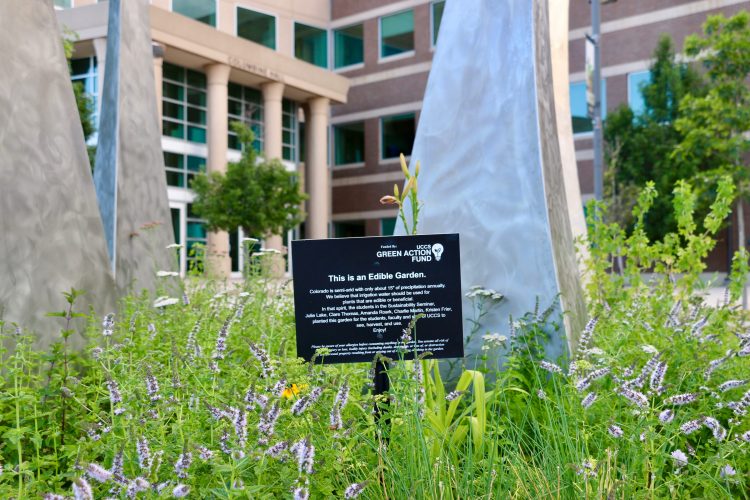 Communique - "Gardens bring summer produce...
July 20, 2017
Gardens bring summer produce to campus
Summertime brings fresh food initiatives to campus - the newest being the UCCS Farm Stand. The stand sells fresh produce from campus gardens in an effort to promote healthy, local eating.

The Flying Carrot Food Literacy Team sets up at the stand to give free samples and recipes. They also demonstrate different recipes, such as how to make your own pesto.
The weekly stand shares the production from gardens across campus. Greenhouses located on the east end of campus are the main sources for produce. A variety of vegetables and herbs grow in the greenhouses - tomatoes, peppers, squash, beets, dill, mint, thyme and more. The larger greenhouse has several garden beds and an aquaponics system working to make as much local food possible.
Six gardens are in use on top of the newest dining hall on campus, Roaring Fork. These gardens are a combined effort between UCCS Dining and Hospitality Services and UCCS Farm.
The edible garden outside of Columbine Hall provides strawberries, Swiss chard, mint, kale and other plants for students, staff and faculty to enjoy. This garden was created by students in a sustainability seminar course, and funded by the Green Action Fund. Each year, different departments on campus adopt the garden to help with maintenance.

The Farm Stand runs from 11 a.m. - 1 p.m. every Tuesday until Aug. 15 at the University Center Upper Plaza.
- Photos and video by Savannah Waggoner and Jeffrey M Foster