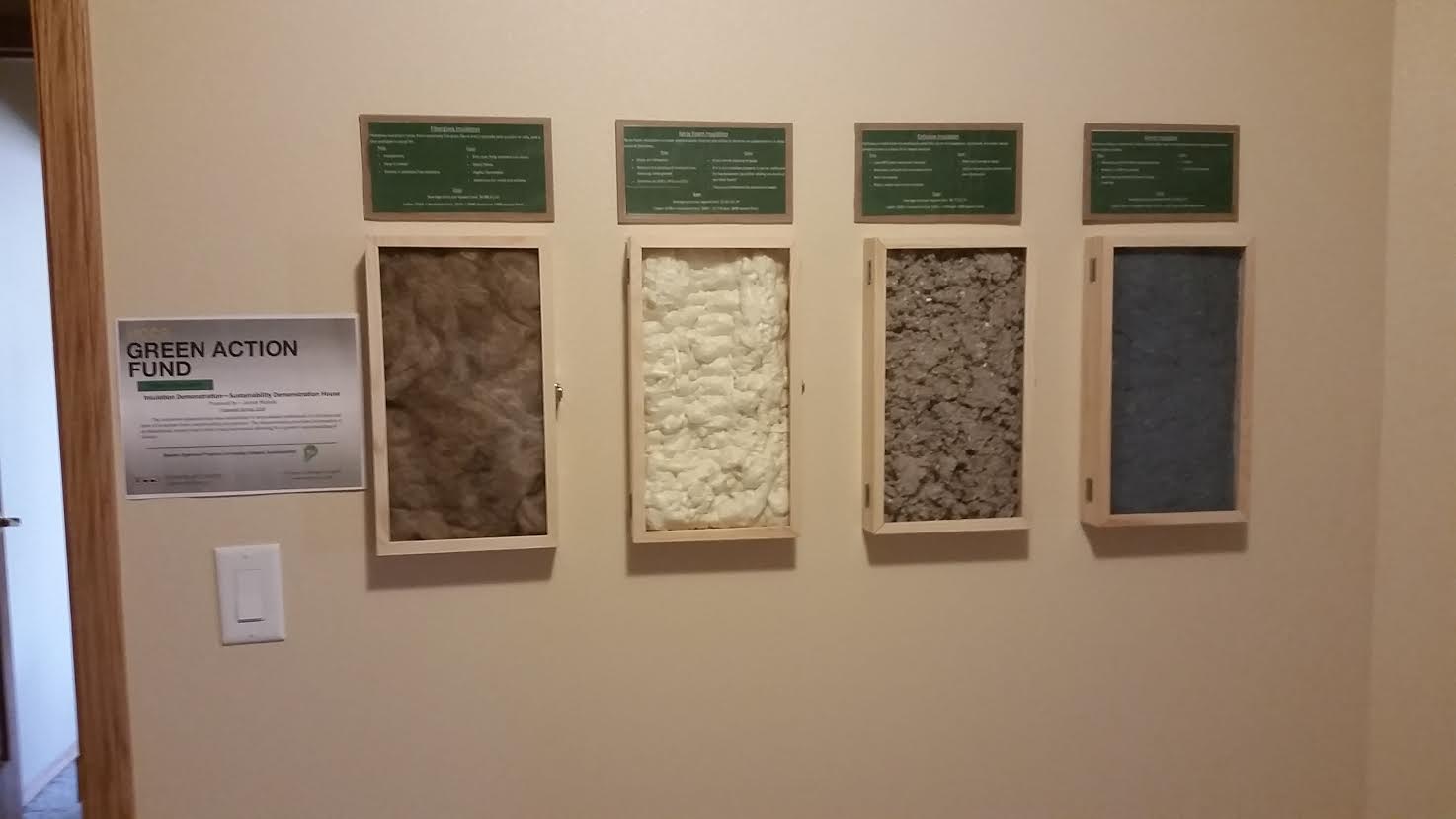 Project Overview
This project was completed to develop an eye catching and interesting insulation display with information about each type of insulation and how environmentally friendly it may or may not be along with cost/benefit analysis for each type for an average sized home. A Pro/Con analysis is included in the signs; see below. This installation can be found on the Sustainability Demonstration House tour.
Fiberglass: Insulating a home in an efficient manner can be not only good for your energy bill but good for the environment. Although fiberglass insulation comprises 90% of home insulation, it can have many health risks, including being sharp and dangerous, causing irritation to both skin and eyes. If this material is inhaled into the lungs it reacts the same way it would if it were in contact with skin. Fiberglass insulation is labeled as a carcinogen in packages. Not only is it bad in direct contact but it is also bad for the environment in the way of carbon emissions, resource procurement (the rare mineral boron). Fiberglass insulation is notorious for underperforming and is also susceptible to mold and mildew. It is also highly flammable.
Cost: Average price to insulate 500 square feet is $438-$772 and averages $0.88-$1.55 per square foot.
Cellulose: Cellulose is made from reconstituted wood fiber (such as newspaper, cardboard and other wood products) and is a loose fill or blown material that is 80 % post-consumer paper contents. It is non-toxic and safe for the environment. It is non-flammable and is resistant to mold. It also does not itch when exposed to skin and has soundproofing qualities.
Cost: Average price to insulate 500 square feet is $382-$637 and averages $0.77- $1.27 per square foot.
Ultratouch Denim Insulation: This is made from recycled denim and is fire treated with benign borax. It is environmentally friendly and made from 90% post-consumer fibers. It does not itch and can be easily handled for easy installation.
Cost: Average price to insulate 500 square feet is $848-$1608 and averages $1.70- $3.22 per square foot.
Spray Foam Insulation: This is a closed cell insulation. It stops air infiltration and reduces buildup of moisture thus reducing mold growth. It contains no VOC's HFCs or CFCs, it does not outgas and is sound dampening. It reduces energy consumption by stopping the infiltration of air and reduces heat loss.
Cost: Average price to insulate 500 square feet is $907-$1124 and averages $1.81- $2.24 per square foot.